Meet Our Dentist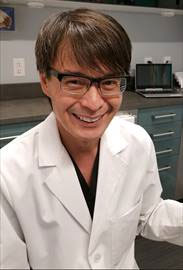 Larry E. Manalo, D.M.D.
General Dentist, Specialist in Dental Prosthodontics
Cosmetic, Implant & Reconstructive Dentistry
Dr. Manalo is dedicated to providing his patients with high-quality and personalized specialty dental care. Beyond that of a general dentist, Dr. Manalo has completed an additional three years of advanced training as a Prosthodontic Specialist from the University of Pittsburgh School of Dental Medicine. This additional education beyond that of a general dentist gives him the mastery and expertise in Cosmetic Dentistry, (smile makeovers), Implant Dentistry, (tooth replacement), and Reconstructive Dentistry, (full mouth rehabilitation). Committed to excellence, Dr. Manalo often exceeds his patient's expectations because he realizes that, "Your Smile Is The Greatest Gift Of All!"
Dr. Manalo is an avid runner, golfer, and car enthusiast. He, with his wife Cathy and their four children, has been a proud resident of Upper St. Clair for over 20 years.